Prefab Saunas | Prebuilt Sauna Kits for Sale

They offer a multitude of excellent wellness advantages and are great for regeneration and detoxing the body. They also boost heart rate, which burns calories. It will help you to burn calories and lose weight without much effort. Also, the use of saunas is an excellent way to reduce muscle tension. Researchers have found that saunas can improve cardiovascular health, reduce inflammation, and ease pain from conditions like arthritis and fibromyalgia, so people are investing in them more than ever as a way to improve their health.
In addition to a sweat session that allows you to relax after a hard workout, a sauna offers a sweat session that will enable you to earn sweat from a hard run. There are numerous sauna models available in the market (find your detoxifying indoor sauna for sale here). Some home saunas are plug-and-play. They were designed to be a free-standing type that uses your existing floor as the sauna's inside floor. At the same time, others are designed in stylish red cedar wood used for the cottage or home. Some models are custom-cut that are made to match the space you have set aside for a sauna. Whether it's under a stairwell, in an existing walk-in closet, or a large, unfinished basement, there's always room for more storage.
Prefab Saunas, also known as prebuilt saunas, come with prebuilt insulated walls and ceiling panels that screw together. You choose the base where the sauna will be; the kit comes with trim pieces and a long list of sauna accessories.
One of the benefits o prefab saunas is that they can be disassembled and moved to another location if you desire.
Depending on your preferences and lifestyle, you can choose the proper sauna for you. If you are a renter, you may prefer a portable sauna. A portable Prefab sauna is a perfect choice for people who move constantly. With this type of sauna, you can change your mind from time to time. You can upgrade your sauna when you want to or purchase a brand-new one without any installation hassle.
What is a Prefab Sauna Kit?
The Prefabs Saunas are modular sauna kits prefabricated to reduce the amount of work involved; this makes building the sauna quick and straightforward. That is the main difference between a Prefab sauna and a DIY sauna kit. In the DIY sauna kit, you do all the cutting yourself.
With a prefab sauna, you can quickly install a sturdy, freestanding sauna room indoors or outdoors. The highest quality kits are made of Grade A Red Cedar logs. Some logs slide together along threaded rods; others go together and require some screwing of boards or panels. All come with preassembled benches and doors. Indoor saunas should be set on a tiled or concrete floor.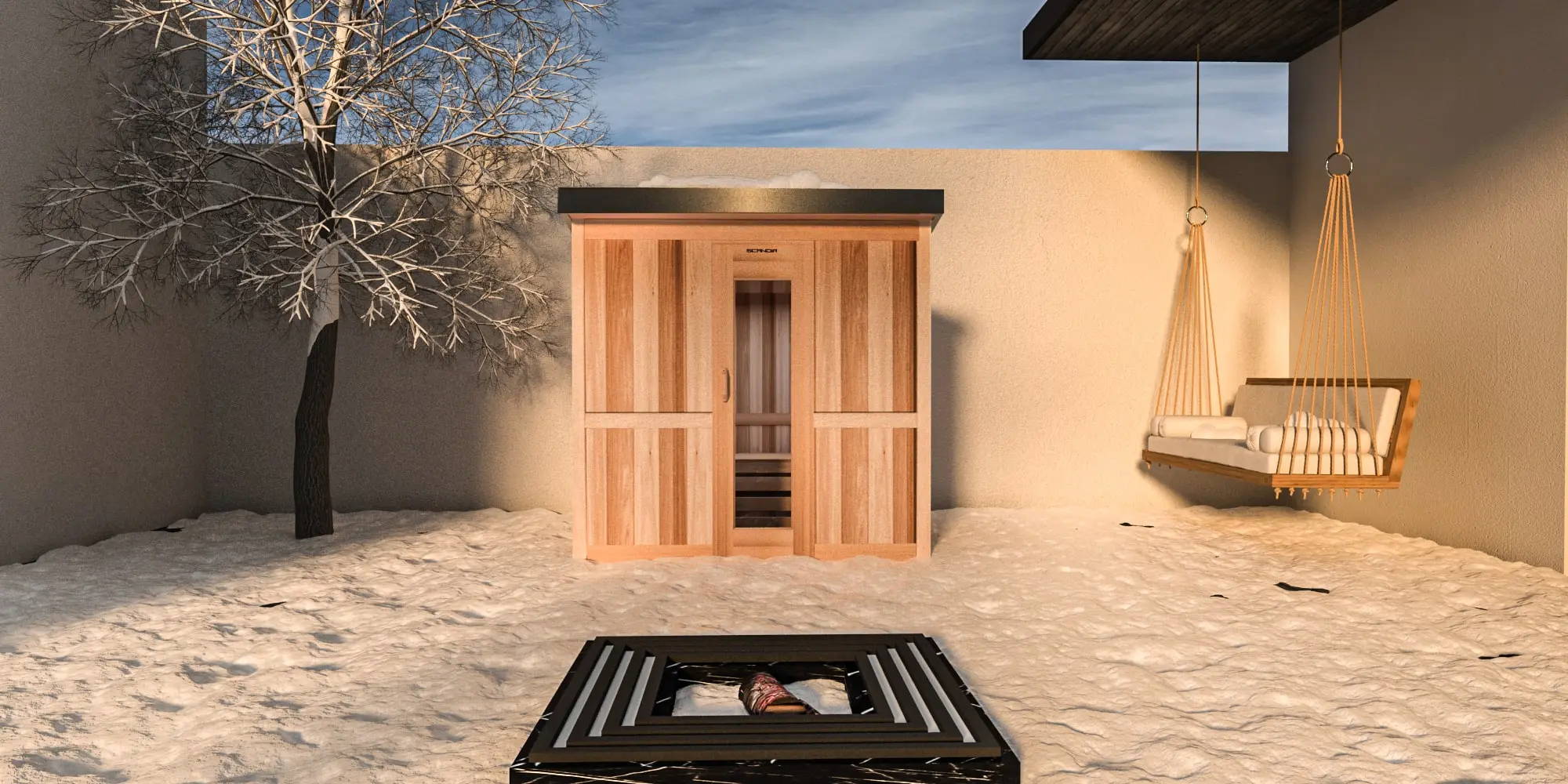 What are the benefits of a Prefab Sauna?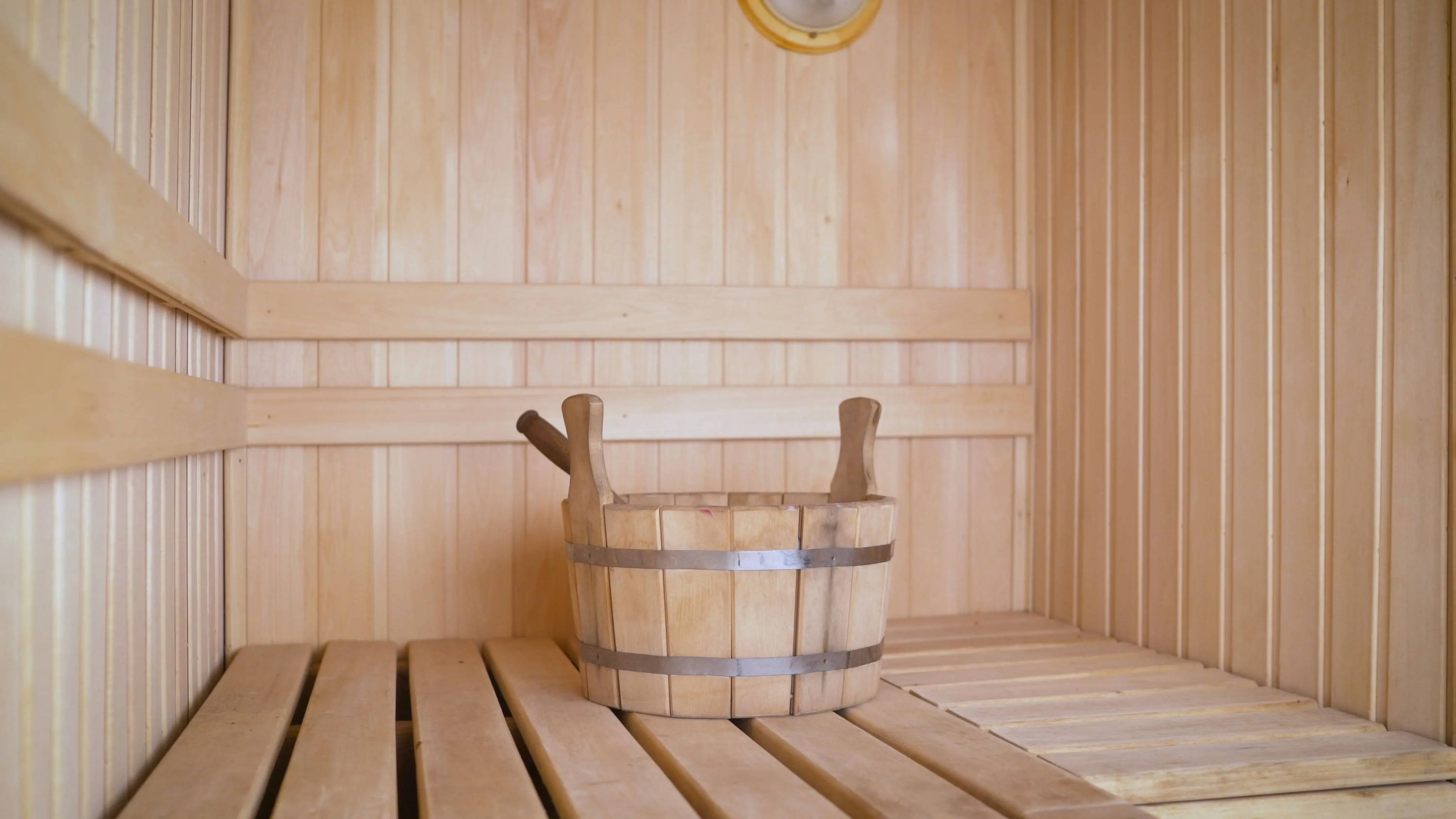 The benefits of a prefab sauna are:
● They include components that already come preassembled, making putting together the sauna quick and simple.

● It can be installed and put together in just a few hours.

● The walls are self-supporting, so they don't need extra framing or insulation.

● There is no need for special tools required to assemble it.

● If you need to move it, you can disassemble it without a problem.
Requirements for setting up a prefab sauna
The requirements you will need to consider before setting up your prefab sauna are:
1.

Flooring

. The floor must be non-slip and must withstand a considerable moisture load that may occur during the sauna sessions. The base may need a drain, called a scupper, to help lead to the drain with a water lock outside the sauna room. The drain shouldn't be placed directly under the sauna heater. It could lead to a risk that the water trap dries out and may cause a bad smell. (You don't want a smelly sauna). Wood Duckboard is decorative and pleasant to walk on; the only downside is that it makes cleaning the sauna more difficult.
 

2.

Electric Power. Studies have shown that of all the energy the sauna heater consumes, the thermal energy of the house will benefit. Meaning the house's thermostat-controlled heating radiators will get a break, which will lead to saving the same power that the sauna consumes.
 
3. Ceiling Height. The sauna ceiling height must not be less than 74 inches. A ceiling height between 190 and 220 cm is just right for a regular family sauna.
The only reason to build it higher is that the sauna benches are more than two levels.

If the ceiling height exceeds 86 inches, it may get difficult to correctly distribute the temperature to the lower levels of the modular sauna when heated from top to bottom.

 

4.

Ventilation. Ventilation is one of the most important things to consider when you buy a prefab sauna kit. Incorrect ventilation may trigger the overheating protection on the sauna heater. The dry distillation of a wood panel in the sauna may lead to a fire hazard. A sauna should be ventilated with thermal ventilation, also called self-draught. It takes the air directly under the sauna heater. The exhaust air outlet must be placed far away from the heater and inlet air as high up in the room as possible and ventilated to the same space where the inlet air is taken.
 

Another essential thing to bear in mind is that there needs to be the same air pressure in the inlet air and where the exhaust airflows. If not, the ventilation will not work. The size of inlet air would depend on the heater capacity and the size of the modular sauna you have chosen.
Prebuilt sauna material kit
A Prebuilt or prefab sauna material kit may include (depending on the model):
● Wall and Ceiling Panels

● Trim Pieces

● Electric or Gas Heater

● Sauna door

● Benches

● Sauna bucket and ladle

● Thermometer

● Headrest

● Sauna Lights

● Duckboard Flooring

● Sauna Essential Oils

● Sauna Rocks

● Installation Manual
Tools required for assembly: Drill and screw gun, level, chop saw, finish nailer, and hammer.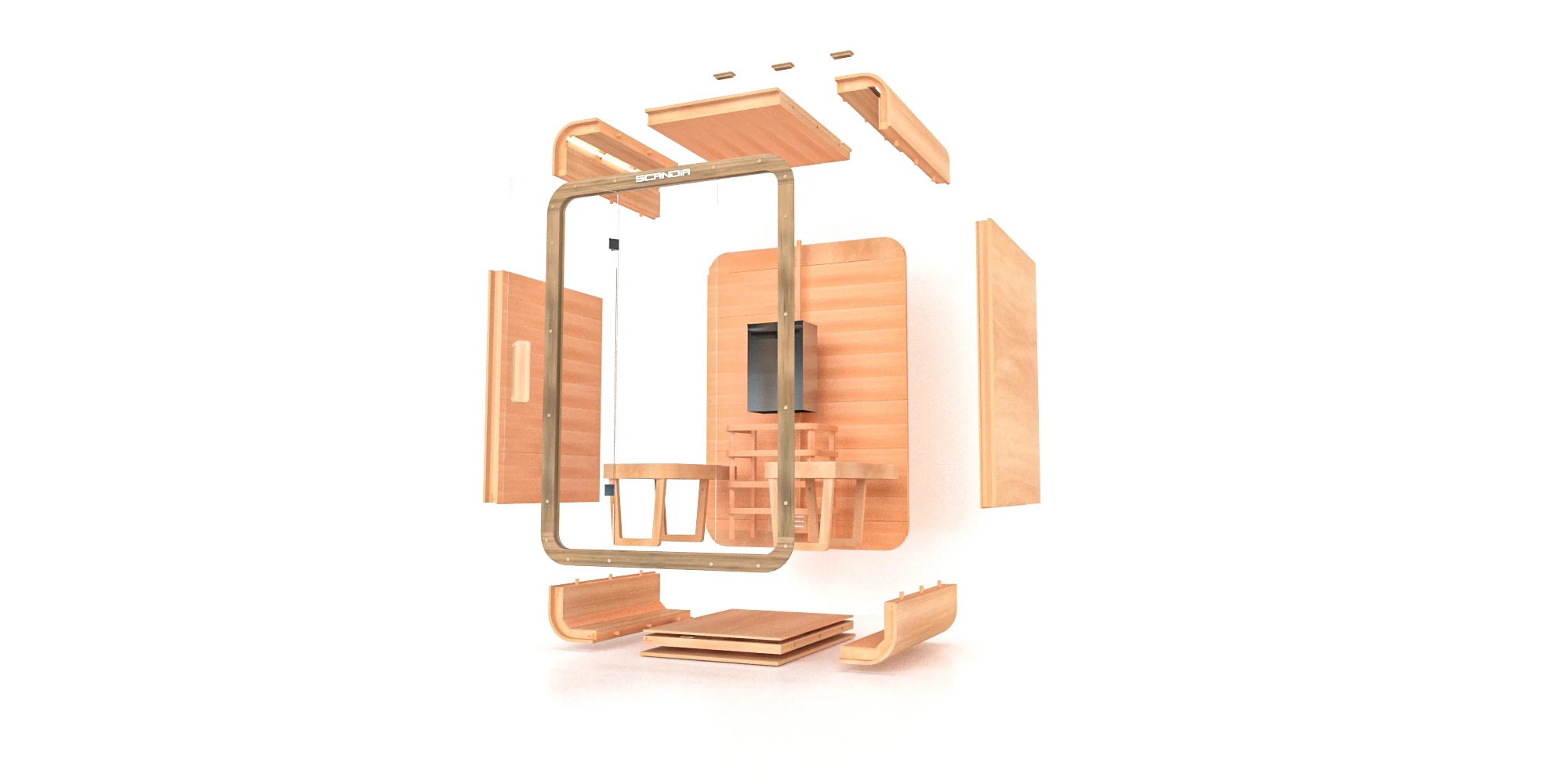 Persons required for the sauna assembly: you will need two people as a minimum for the main structure assembly.

We recommend a certified electrician setups your electric heater and control panel connected to make their job easy; most kits include built-in electrical conduits.
How much is a prefab sauna?
Prefab saunas come in a wide variety of price ranges, depending on whether it's an indoor or outdoor sauna and the person's capacity. There are options from a two-person infrared sauna of USD 6000 to an eight-person home sauna of USD 13,000. At saunas.com you can buy prefab saunas. Shipping is free across the US and Canada.
If you are looking for an Infrared Sauna with a two-person capacity, the TheraSauna TS4746 is an excellent option for USD 6,520. It is the only far infrared sauna globally with a patented onboard computer system for constant infrared emission.
If you are looking for a traditional sauna, there is no better option than the TREND Sauna by Scandia Manufacturing; the two-person capacity starts at USD 7000 for a 5'W 4'D 7'H size up to USD 10,000 for the 7'W 8'D 7'H size with an eight-person capacity. The TREND Sauna combines the highest quality materials available with a Grade A Red Cedar interior and a Poplar Wood exterior with an entire glass storefront.
If you are looking for a traditional sauna, there is no better option than the TREND Sauna by Scandia Manufacturing; the two-person capacity starts at USD 7000 for a 5'W 4'D 7'H size up to USD 10,000 for the 7'W 8'D 7'H size with an eight-person capacity. The TREND Sauna combines the highest quality materials available with a Grade A Red Cedar interior and a Poplar Wood exterior with an entire glass storefront.
This indoor sauna's modern and sleek design makes it a work of art, designed by the best interior designers and brought to life by expert American craftsmen. This sauna will enhance the look of your home, providing comfort and relaxation for your body and mind. On top of that, it is also fully equipped with chromotherapy lights.
Control your sauna heater and sauna lights with your phone app or the Wifi Controller.
Types of Prefab Sauna Kits
There are two main types of sauna kits: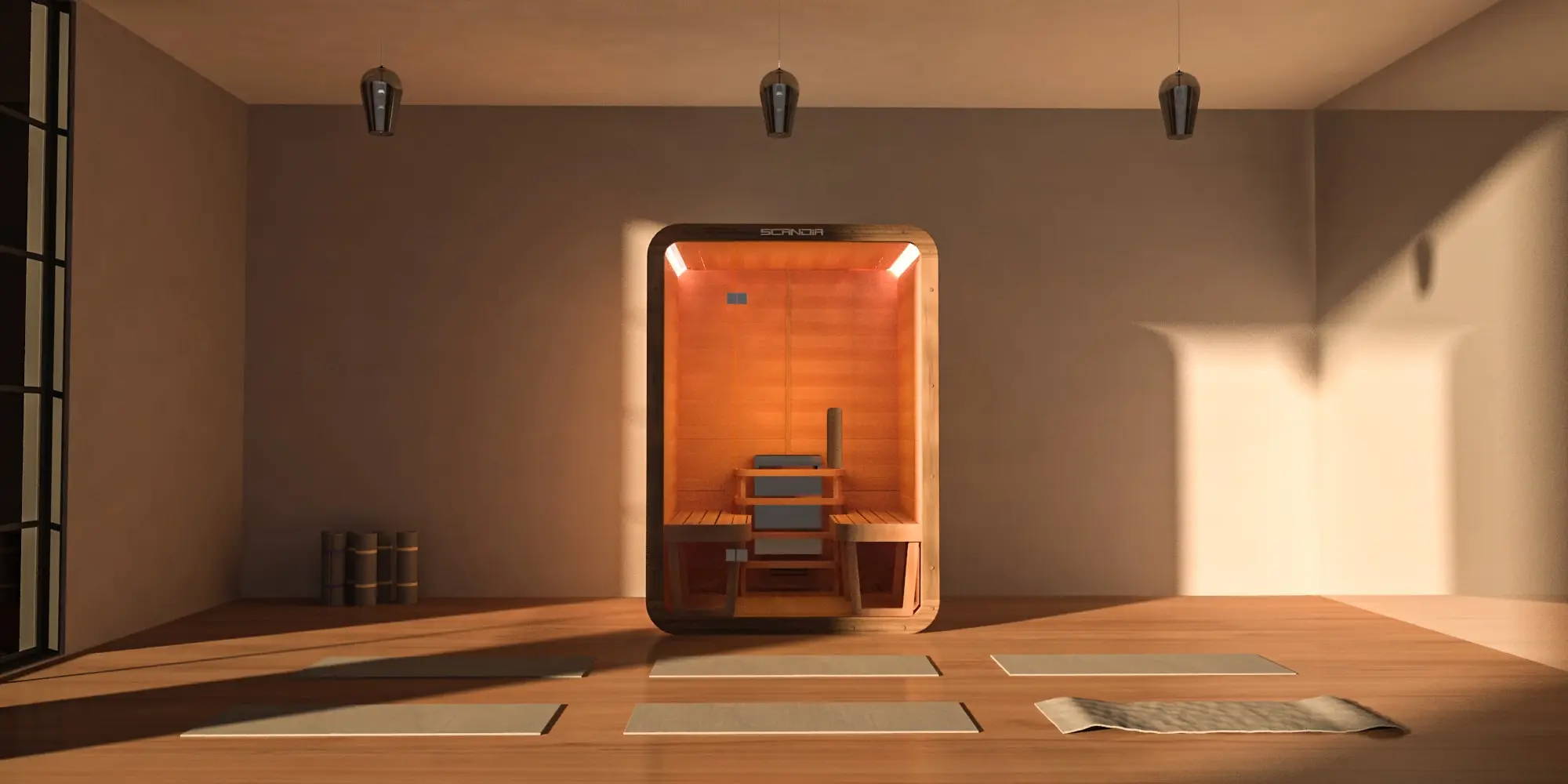 They are usually placed in a larger room, basement, cabin, or sometimes, an outside shelter or if you have a very large bathroom. This kit can be erected just indoors and can be taken down and moved.
In the indoor types, you can find Infrared Saunas. They are more cost accessible than a traditional home sauna. They also consume less energy.
Outdoor Prefab Sauna Kits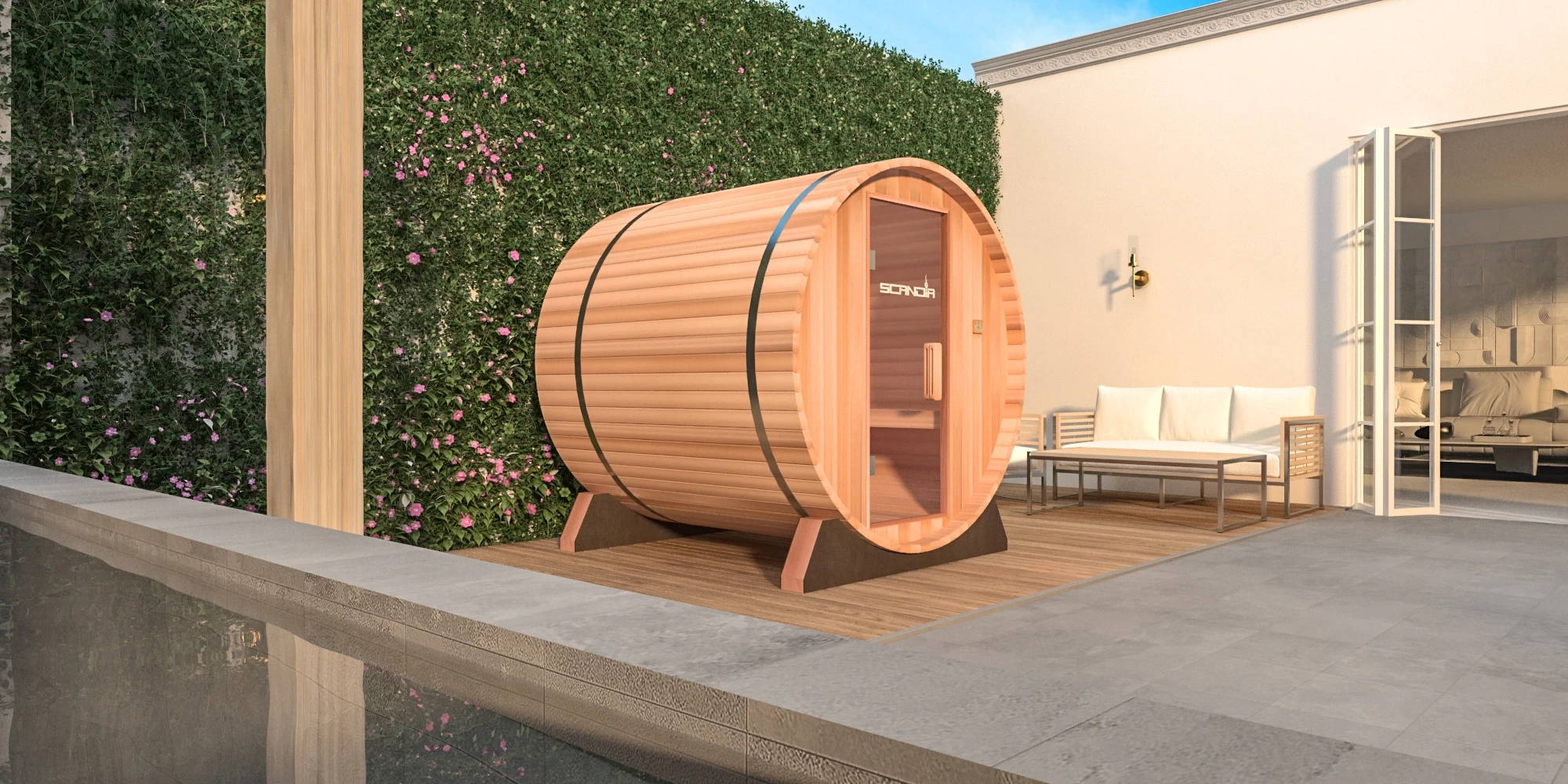 Outdoor kits should be placed on a suitable base, like pressure-treated wood, cement, pavers, or tile. You may also use the outdoor kits indoors. However, not the way around. If you choose a stand-alone outdoor sauna, you should find a sauna kit that includes a roof kit.aditional outdoor sauna experience without building anntire structure. 
Find your perfect pre-built sauna for sale at saunas.com with free shipping in the US and Canada.