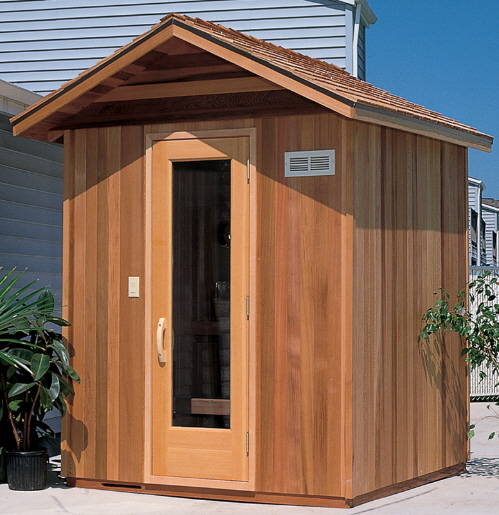 A simple and effective choice,  Avalon Outdoor Saunas have everything you need for a classic sauna experience. 
These are manufactured with three-quarter inch thick Western Red Cedar T&G on the interior to ensure a little better R Value & less chance of cupping & warping over time. We have seven different models of the Avalon Outdoor Sauna so you'll be guaranteed to find the right size. These saunas can be obtained in different technical specifications to meet your personal preferences. 
Avalon Outdoor Saunas include a shingle roof kit (with optional skylight upgrade) which is a necessity for any outdoor sauna. The exterior is made of rough sewn mahogany. The bench and walls panels come pre-assembled to ease installation. Generally speaking, sauna building requires a moderate knowledge of carpentry. If you feel assembly is outside your skill set, bring in some help from friends, family, or a professional. Most projects can be completed within a day. 

The benefits of sauna bathing are yours forever with your own backyard oasis. Chat with our experts to help you find just the right fit for your space.