Sauna bathing inversely associated with
Dementia and Alzheimer's disease
Sauna bathing is inversely associated with dementia and Alzheimer's disease in middle-aged Finnish men
Introduction Although there is a direct correlation between ageing and the incidence of dementia, its risk factors and pathogenesis are not fully understood and various possible preventive strategies are still under investigation. A multifactorial aetiology has been proposed and pathways notably implicated include inflammation, haemodynamic and vascular function. Evidence from observational studies suggests that poor vascular function (as indicated by arterial stiffening) and vascular diseases maybe associated with worse cognitive performance and dementia. Given this, there remains a possibility that improved circulatory function may be linked to better cognitive outcomes. Sauna bathing, an activity linked to relaxation and well-being, is associated with better haemodynamic function, leads to skin sweating-induced fluid loss and increase in heart rate; and has been suggested to be associated with a better cardiovascular and circulatory function, especially among patients with chronic heart failure.
Previous studies have also shown that heat exposure of sauna bathing is associated with lower blood pressure; however, some of these reports were based on limited study designs. We have recently shown that regular sauna bathing is associated with reduced risks of fatal cardiovascular diseases and all-cause mortality. The relationship between sauna bathing and dementia is however not known. Thus, the aim of this prospective study was to investigate the association between frequency of sauna bathing and the risk of dementia and Alzheimer's disease.
Methods
Study population
This study was designed to investigate risk predictors for atherosclerotic cardiovascular outcomes in a population based sample of men from eastern Finland. Subjects comprised a randomly selected sample of 3,433 men aged 42–60 years who resided in Kuopio or its surrounding rural communities [15]. Of those invited, 2,682 (83%) participated in the study, and those with complete information on sauna bathing were included (N = 2,327). Twelve men who did not use sauna were excluded, leaving 2,315 men for the analyses . Baseline examinations were conducted between March 1984 and December 1989. The study was approved by the research ethics committee of the University of Eastern Finland, Kuopio, Finland. Each participant gave written informed consent.
Assessment of sauna bathing habits
A traditional Finnish sauna has dry air (10–20%) with relatively high temperature. The recommended temperature for sauna is usually from 80°C to 100°C at the level of the bather's face. Humidity is temporarily increased by throwing water on the hot rocks of sauna heater. The use of sauna bathing was assessed by a self-administered questionnaire based on weekly sauna sessions, duration and temperature. The assessment represents a typical sauna use during the week. The temperature in sauna room was measured using a thermometer in and was also self-reported. The questionnaires were checked by an experienced nurse at the time of baseline examination .
Assessment of baseline characteristics
A subject was defined as a smoker if he had ever smoked on a regular basis and pack-years were defined. Resting blood pressure was measured between 8:00 and 10:00 AM with a random-zero sphygmomanometer. Alcohol consumption was assessed using the Nordic Alcohol Consumption Inventory. Body mass index (BMI) was calculated as the ratio of weight in kilograms to the square of height in meters. The collection of blood specimens and the measurement of serum lipids, lipoproteins, creatinine and glucose have been described previously. Diabetes was defined as a fasting blood glucose level ≥7.0 mmol/l or clinical diagnosis of diabetes with dietary, oral or insulin treatment. The use of medications, medical history and the level of physical activity were assessed by self-administered questionnaires. Physical activity (kcal/day) was computed by multiplying the duration and intensity of each physical activity by body weight and was assessed using a 12-month physical activity questionnaire described in detail previously. Briefly, this detailed quantitative questionnaire deals with the most common leisure-time physical activities of middle-aged Finnish men (conditioning physical activity, e.g. walking, skiing, bicycling, swimming, rowing and ball games; and non-conditioning physical activity, e.g. crafts, repairs, building, gardening, hunting and fishing) and enables the assessment of all components of physical activity. Prevalent coronary heart disease was defined as either a previous myocardial infarction, angina pectoris or the use of nitroglycerin for chest pain once a week or more frequently. Socio-economic status is a summary index that combines measures of income, education, occupation, occupational prestige, material standard of living and housing conditions, all of which were assessed with self-reported questionnaires.

Ascertainment of outcomes
All dementia and Alzheimer's disease cases that occurred from study enrollment through 2013 were included. There were no losses to follow-up given the complete follow-up of the Finnish population using personal identification codes. In the Kuopio Ischemic Heart Disease risk factor study, participants are under annual monitoring for incident dementia cases and cardio-metabolic outcomes. Data on outcome events were obtained by record linkage to the national computerized hospitalization registry, which covers every hospitalization in Finland. The diagnoses of memory diseases were coded according to the International Classification of Diseases Codes. In addition, sources of information on dementia outcomes were also based on a comprehensive review of hospital records, inpatient physician claims data and medico-legal reports. An independent committee of researchers reviewed all potential cases of dementia to obtain a consensus on the diagnosis and Aetiology.
Statistical analysis
For all analyses, natural logarithm (loge) transformed values of non-normal distributed variables were used. Descriptive data are presented as means (SDs) for continuous variables and numbers (percentages) for categorical ones. Analyses of the associations between sauna bathing, dementia and Alzheimer's disease involved Cox-regression modeling. Hazard ratios (HRs) with confidence intervals (CIs) were estimated per frequency of sauna bathing with adjustment for potential confounders selected on the basis of their previously established role as risk factors [14]. Two-sided analyses were performed using SPSS version 18.0 (IBM Corp., Armonk, NY, USA) and CIs are presented at the 95% level.
Results
Baseline characteristics of the study population are shown in Table 1. During a median follow-up of 20.7 (interquartile range 18.1–22.6) years, a total of 204 newly diagnosed dementia and 123 Alzheimer's disease cases were recorded; only 4 dementia cases and 6 Alzheimer disease cases were defined at time of death. Of all men with diagnosed outcome events, 124 men with dementia and 67 men with T. Laukkanen et al. A total of 601, 1,513 and 200 participants reported having a sauna bath once a week, 2–3 times and 4–7 times per week, respectively.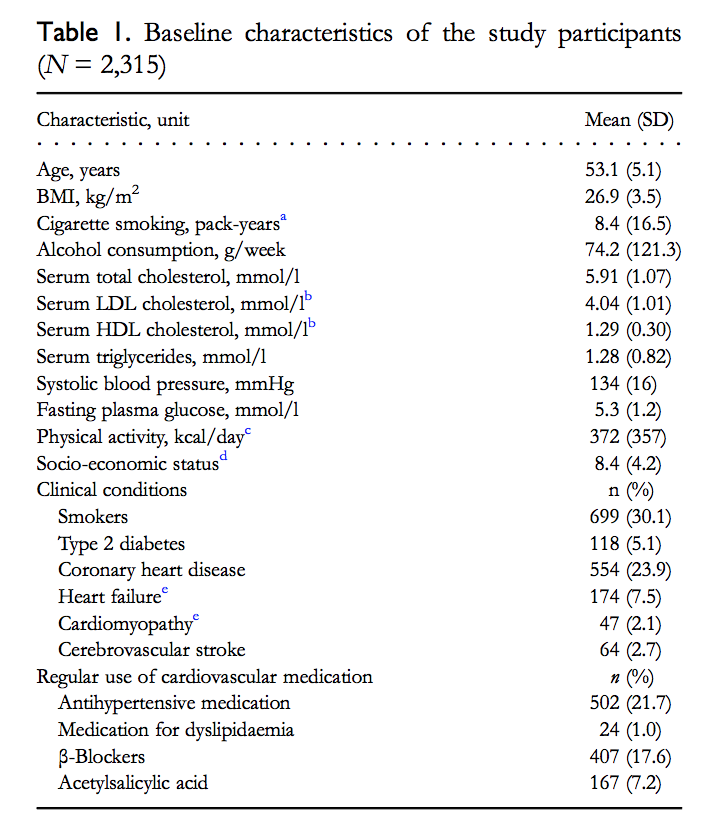 The numbers (proportions in each group) of dementia cases were 59 (10%), 137 (9%) and 8 (4%) respectively in the three frequency groups of sauna bathing. The corresponding numbers (proportions) of Alzheimer's disease cases were 34 (6%), 84 (6%) and 5 (3%), respectively. After adjustment for age, compared with men with only 1 sauna bathing session per week, the HR of dementia was 0.77 (95% CI: 0.57–1.04) for 2–3 sauna bathing sessions per week and 0.38 (95% CI: 0.18–0.80) for 4–7 sauna bathing sessions per week. The corresponding HRs for Alzheimer's disease were 0.80 (95% CI: 0.54–1.2) for 2–3 sauna bathing sessions per week and 0.41 (95% CI: 0.16–1.07) for 4–7 sauna bathing sessions per week. In a multivariable analysis adjusted for baseline age, alcohol consumption, BMI, systolic blood pressure, smoking status, Type 2 diabetes, previous myocardial infarction, resting heart rate and serum low-density lipoprotein cholesterol, there was a 66% risk reduction (HR: 0.34) of dementia and 65% (HR: 0.35) risk reduction of Alzheimer's disease when sauna bathing 4–7 times a week was compared with subjects having 1 sauna session per week (Table 2). After additional adjustment for physical activity and socio-economic status, the respective associations between sauna bathing and the risk of memory diseases (HR 0.34, 95% CI: 0.16–0.71, P = 0.004 for dementia and HR 0.35, 95% CI 0.16–0.90, P = 0.029 for Alzheimer's disease) remained similar for men with 4–7 sauna bathing sessions per week.