ADVANCED HYBRID STEAM ROOM
The finest steam room technology on earth. Mold, mildew, and virus-resistant. Cost efficient, environmentally friendly, and easy to install. Fully customizable and low maintenance. Step inside and learn more today!
RETURN & EXCHANGE
Return any of our products in 30 days.
FREE SHIPPING FOR ALL PRODUCTS
All of our products have free shipping.
PERSONALIZED ONLINE SUPPORT
Recieve 24/7 support. We're here to help.
ADVANCED HYBRID STEAM ROOM
Steam room interiors constructed from tile, stone and grout are a breeding ground for bacteria. With temperatures hovering from 105 - 110 degrees, the porous grout and wet environment allow mold, mildew, viral material, and bacteria to flourish. The combination of high moisture levels, lack of light, and warm temperatures become a major sanitary concern. Frequent deep cleanings using harsh and toxic chemicals are required to sanitize the tile and grout, leading to rapid deterioration of materials. Traditional steam rooms will always require expensive reworking of the tile and grout, it's just a question of how soon.
Scandia's Advanced Hybrid Steam Rooms are the most sanitary, energy efficient, and economical steam rooms on the planet. Constructed using a commercial-grade acrylic paneling system, the unique design and construction leaves no crevices for bacteria to breed in. They can be wiped clean quickly and easily, with no harm to the room or the environment. In combination with our PowerZone automatic sanitization equipment, bacteria, virus, mildew, and mold become literally non-existent. Finally, you can reap the health benefits of regular steam room use without the headaches and hassles of intense maintenance!
THE WORLD'S MOST ADVANCED & SANITARY STEAM ROOM
TRADITION IS A THING OF THE PAST. ENTER THE NEW ERA OF STEAM ROOM TECHNOLOGY
• Superior cleanliness and up to 50% lower energy use compared to traditional steam rooms.

• World-class technology that virtually eliminates the transmission of virus, bacteria, and disease.

• Manufactured from high-quality acrylic and polymer materials designed for use in harsh environments.

• Economical, eco-friendly, and human-friendly design requires less cleanup and maintenance.

• Cutting-edge automatic sanitization featuring PowerZone technology.

• Built to use, and designed to last a lifetime. Less hassle, and more time in the steam room.
WHAT'S THE DIFFERENCE BETWEEN A STEAM ROOM AND A SAUNA?
Steam rooms and saunas are somewhat similar, yet very different. Both provide incredibly diverse health benefits for the body through the use of heat and moisture. A sauna creates heat at a very high temperature from hot rocks that are typically doused with water. They can be heated by gas, electric, or closed wood-burning stoves. Steam rooms, however, are heated by a generator filled with boiling water which creates a heavy cloud of steam at much lower temperatures than a sauna. The single biggest factor to the unique health benefits of a steam room are the high levels of humidity, unlike the dry heat of a sauna.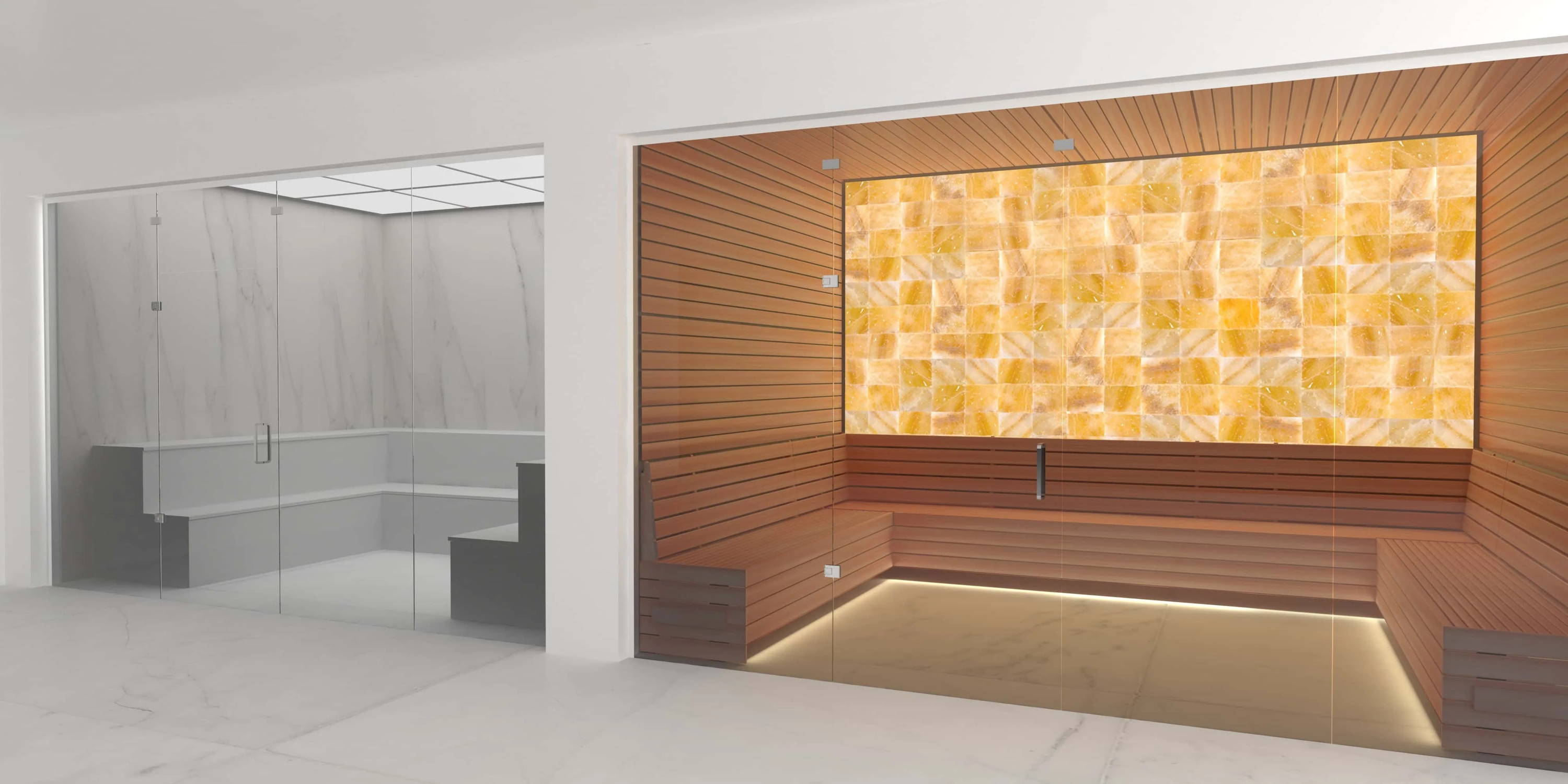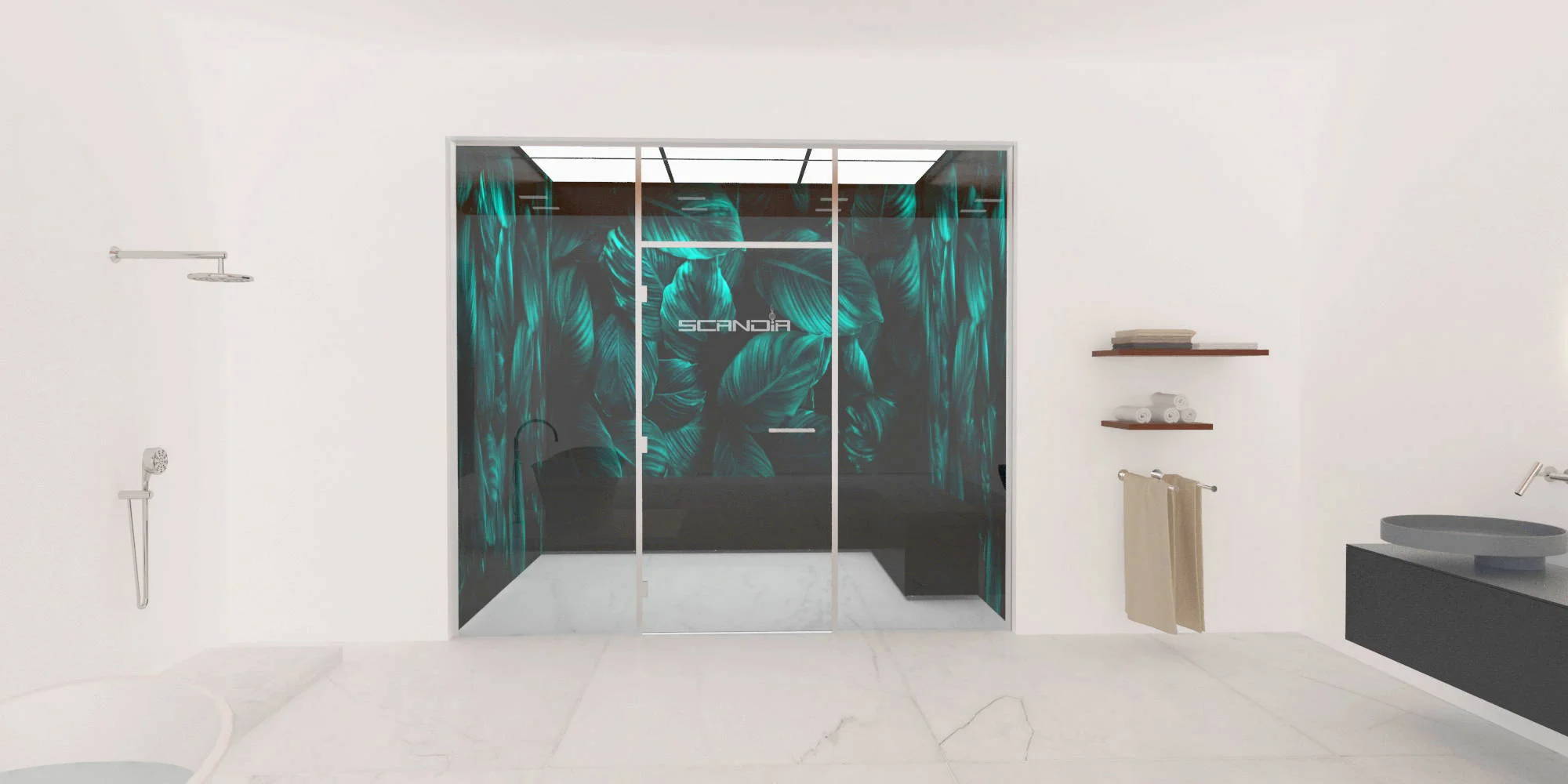 ADVANCED STEAM ROOMS, MADE TO ORDER
CUSTOM, HYGENIC AND LOW-MAINTENANCE
Transform the look and feel of your steam room with commercial-grade screen printed wall panels. With hundreds of pre-designed images to choose from - including solid colors or completely customized graphics - the possibilities are endless. The smooth, expertly engineered wall and ceiling design combines a highly sanitary environment with world-class energy efficiency. What's more? Compared to traditional designs, our steam rooms are free of tile and grout where mold, mildew, bacteria, and viruses thrive.
PREMIUM GRADE BENCH MATERIALS
The benches of our Advanced Hybrid Steam Rooms are made from ultra-durable, marine-grade polymer sheeting. Developed using a proprietary process for superior flatness and consistency, it can easily withstand even the most extreme conditions. Unlike wood or most plastics, it will not warp, rot, or delaminate when exposed to the high levels of humidity or excess water typically found in steam rooms - even after thousands of cycles. Our benches are available in a variety of colors to match nearly any style imaginable.